French Country Antiques
Grandfather Clocks
Bouquet de Fleurs (hand painting on face)
1860 circa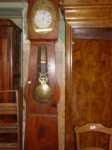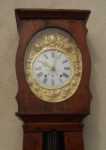 Click here to see & hear clock with chime (large file - 1 mb)
Specification sheet


'MUSIC'

"When music sounds, gone is the earth I know,
And all her lovely things even lovelier grow;
Her flowers in vision flame, her forest trees,
Lift burdened branches, stilled with ecstasies.

When music sounds, out of the water rise
Naiads whose beauty dims my waking eyes,
Rapt in strange dreams burns each enchanted face,
With solemn echoing stirs their dwelling-place.

When music sounds, all that I was I am
Ere to this haunt of brooding dust I came;
While from Time's woods break into distant song
The swift-winged hours, as I hasten along."

Walter De La Mare
'Motley' 1919


During the winter of 2004 in the south of France...

This French Grandfather Clock was made in the Frank region of France, departments of the Jura, Doubs, & High Saone (the department names in old documented, French writings). This Clock originates in the Village of Parisot, France. The white, enameled face is graced with simple, open work hands, with a lovely, hand painted fleur bouquet, in the centre of Grandfather's face. The Brass Fronton is Embellished with roses and various Fleurs of Field and Garden. The Oval Pediment gives Grandfather that flair of Uniqueness. The Lyre Pendulum sways, with a Deep, Quiet Tick. The Song is clear and cheerful, striking on the heur (hour), one minute past the heur, and half heur. Grandfather comes with His own Key. A Handsome Addition, giving a Happy Ambience.

Each of the Horloge Grand Peres have been authenticated by Monsieur Valéry, an Expert in French Antique Clocks, who lovingly has polished the brass workings and wood casings, and has thoroughly inspected every clock offered, to be certain they are in excellent running order. The rich scent of beeswax enhances the 'Days-Gone-By' Essence of Grandfather.

This Original Antique Piece is presently housed in the 'Heart of France', awaiting a new Home, to bring Wonderment and Warmth to His new Owners. Comes complete with His own Faery.


CALL FOR PRICE(plus shipping and handling)

800-929-3310
lilybee @ eifrid . com
Copyright © 2004-2007 Lily Bee